News
Wednesday 1 May 2013
After four years of successful – and often pioneering – work, March 31st signalled the end of a journey for the Clear About Carbon project.
Financed by the European Social Fund (ESF) Convergence Programme for delivery in Cornwall, Clear About Carbon was a project which began in 2009 and which aimed to find new ways of increasing carbon awareness within businesses and the public sector.
 Delivery of the project was carried out by a quartet of regional organisations that specialised in communicating green issues and delivering business development:
The University of Exeter Business School
Cornwall Development Company
Eden Project
Duchy College Rural Business School
 Working closely with a number of public organisations and Cornish SMEs, the project team strove to develop, test and deliver innovative approaches to:
 raise carbon literacy amongst procurement and purchasing professionals in the public and private sectors
promote the development of leadership and management skills for carbon mitigation
support the building of effective low carbon policies and practices
 Although being targeted at Cornish businesses and organisations (and thus placing the region at the vanguard of such initiatives) the project was also successful in having an impact at national level through mainstreaming and dissemination activities.
 Amongst its major outputs, the project was successful in delivering a 'carbon literacy' e-learning package in conjunction with the Department of Health and Defra (as a part of its National Sustainable Public Procurement Programme), and won several awards for its innovation and mainstreaming, including winning the top award for mainstreaming at the 2013 ESF Innovation, Transnationality and Mainstreaming Awards.
"This award celebrates the project that has reached the pinnacle of achievement by ensuring a legacy post-funding.  It will have had an impact on policy, plus will have been transferred beyond its original context…"

ESF-ITM
Throughout the four years of the project, the team from the University of Exeter Business School concentrated on leadership development and carbon management aspects.  The multi-disciplinary team, featuring staff from the Centre for Leadership Studies and Supply Chain Management, worked with senior management teams in Cornwall on how best to embed carbon in procurement processes.
Based on the principles of the Action Learning methodology, the team established a leadership development programme designed to support the embedding of low carbon operations within the participant organisations, and in particular through procurement and supply chain management practices.
The results of this programme, with teaching case studies and examples of carbon reduction initiatives from participant organisations, are now available in a final report produced by the University of Exeter Business School and available to download here.   The website also offers a wide legacy of practical, free resources to support procurers, managers, trainers and educators engaging with the carbon agenda, including a carbon calculator tool, a range of carbon literacy resources and training materials.
Category:
Friday 8 March 2013
A piece in the Guardian today shows we still have some way to go:
Hopes for 'safe' temperature increase within 2C fade as Hawaii station documents second-greatest emissions increase.
The chances of the world holding temperature rises to 2C – the level of global warming considered "safe" by scientists – appear to be fading fast with US scientists reporting the second-greatest annual rise in CO2 emissions in 2012.
Carbon dioxide levels measured at at Mauna Loa observatory in Hawaii jumped by 2.67 parts per million (ppm) in 2012 to 395ppm, said Pieter Tans, who leads the greenhouse gas measurement team for the US National Oceanic and Atmospheric Administration (NOAA). The record was an increase of 2.93ppm in 1998.
The jump comes as a study published in Science on Thursday looking at global surface temperatures for the past 1,500 years warned that "recent warming is unprecedented", prompting UN climate chief, Christiana Figueres, to say that "staggering global temps show urgent need to act. Rapid climate change must be countered with accelerated action."
Tans told the Associated Press the major factor was an increase in fossil fuel use. "It's just a testament to human influence being dominant", he said. "The prospects of keeping climate change below that [two-degree goal] are fading away."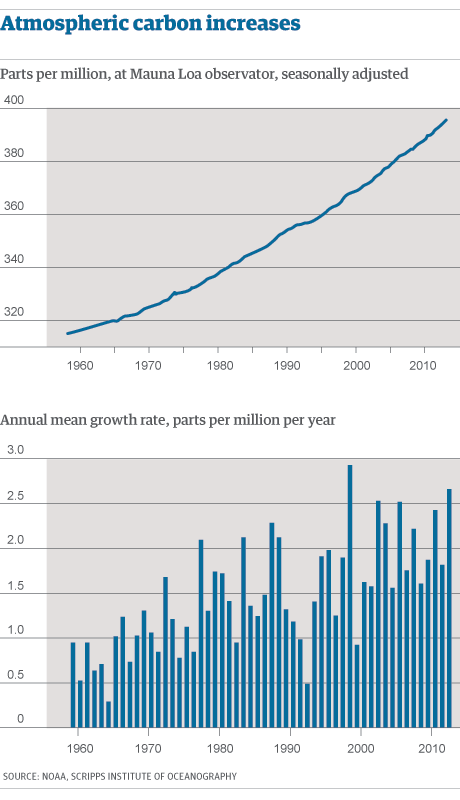 Preliminary data for February 2013 show CO2 levels last month standing at their highest ever recorded at Manua Loa, a remote volcano in the Pacific. Last month they reached a record 396.8ppm with a jump of 3.26ppm between February 2012 and 2013.
Carbon dioxide levels fluctuate seasonally, with the highest levels usually observed in April. Last year the highest level at Mauna Loa was measured at 396.18ppm.
What is disturbing scientists is the the acceleration of CO2 concentrations in the atmosphere, which are occurring in spite of attempts by governments to restrain fossil fuel emissions.
According to the observatory, the average annual rate of increase for the past 10 years has been 2.07ppm – more than double the increase in the 1960s. The average increase in CO2 levels between 1959 to the present was 1.49ppm per year.
Category:
Tuesday 5 March 2013
In a manner reminiscent of Ben Affleck's blockbuster 'Argo', the Clear About Carbon project has swept the board at the 2013 European Social Fund Innovation, Transnationality and Mainstreaming Awards – held at the IET in Savoy Place, London, last week.
 The Awards, hosted by Lloyd Broad, Head of ITM,  formed part of a final celebratory event to venerate the 32 projects across the UK that have made up the ESF-ITM's programme of developing workforce skills and employment since 2007.
 Just like the famous Academy Awards, the ESF-ITM event had several award categories – with an award for Innovation, for Transnational Working, for Mainstreaming and a general award for the project demonstrating an outstanding contribution in all three categories. 
 Represented on the day by Paul "Affleck" Holmes (Eden Project) and Simon "Clooney" Ramsay (University of Exeter Business School) and facing stiff opposition from other inspiring regional projects, the Clear About Carbon project scooped the top award for Mainstreaming, with the organisers stating "This award celebrates the project that has reached the pinnacle of achievement by ensuring a legacy post-funding.  It will have had an impact on policy, plus will have been transferred beyond its original context…"
 Mark Yeoman, head of ESF Convergence Communication, said: "Clear About Carbon winning this national award is testament to both the effective use of ESF investment bringing innovation to tackling real issues, and to the partner organisations that are taking the ideas and lessons and using them to great effect.
 "Mainstream investment is being used to ensure that the benefits of the proven good practice are embedded more widely. Many congratulations to all concerned."
 Clear About Carbon was then shortlisted amongst the nominations for the General Award (a kind of equivalent to Best Picture), missing out to the Groundwork London project but, by that point in proceedings, all thoughts had already turned to the red carpet and the after-show party…
Categories:

Carbon, Carbon footprint, Events, Opportunities, Policy, Procurement, Public sector, Training, Uncategorized

Tags:
Friday 25 January 2013
We talked to Andy Atkinson, managing director of Cornish Orchards, to find out how he's created a thriving – and sustainable – drinks business in just over a decade.
Today, Duloe-based Cornish Orchards is growing a business supplying the likes of Sharp's Brewery, the Eden Project, and even clients in Australia. They have a 26-strong team and make 30 product lines. So how did Andy Atkinson start out?
From cows to apples
Andy had worked as a dairy farmer for some 35 years before he turned to orchards. When milk prices started to fall in the 90s he began to look for inspiration elsewhere – and got involved in a Cornwall Council project helping farmers revive traditional orchards on their land.
As he took his first few batches of apple juice to local farmers' markets he could see the potential of freshly pressed apple juice in a county with a thriving summer tourist industry.
Andy jokes that people might think him 'nuts' for trying to start a business around apple juice, when supermarkets are already selling cartons of apple juice for 76p a litre. But he says the difference is in the taste. Just one sip and you can tell this stuff is a million miles away from that mass-produced caramelised 'juice'.
Navigating the sustainability labyrinth
Andy has a pragmatic yet determined approach to cutting the company's environmental impact. He's spent hours scanning the lines of his accounts and looking into simple ways to improve processes which will also save money.
'Sometimes these lie in really small technical details,' he says – such as investing in a very flat, shiny floor in their warehouse. 'A simple change like this means that the forklift truck tyres don't wear down and constantly need replacing,' he explains.
One thing he's clearly proud of is that the only waste produced at the site is apple pomace – which is fed to local cows and pigs – and water, which passes through the wetlands filtering system they've established in the field.
It isn't always easy making the right decisions though, he admits. 'For example, we're now exporting our drinks out to Europe and Australia. Do we go for the one-way kegs which can be recycled out in France? Or is it less wasteful to use steel kegs with a 30-year life span? But they have a heavy environmental footprint and need to be sent back…'
Turning carbon emissions into a positive
Andy laughs that he's 'always thought it bizarre that we have to buy carbon dioxide in bottles to add the fizz to our juice, while our fermentation process is slowly releasing CO2 all the time. There must be a better way!' He knows of one big drinks company experimenting with this – and is really keen to do the same when this technology comes to market.
Learning from the past
Visit the Cornish Orchards site – a small outfit based in a handful of converted barns and purpose-built warehouses – and you'll be amazed by a small, snaking river of red apples.
This is the ingenious water-based apple-handling system that Andy introduced as a way of moving fruit around the farm, meaning they rely less on forklift trucks. It's modelled on an age-old set-up in Normandy, which he learnt about on a trip there to research traditional cider making methods.
The way it works is that water is pumped into the apple handling bay using a low-energy pump, which then carries the apples along the small river all the way to the press.
Andy says: 'We've found it extremely simple to manage, that it provides a better environment for staff to work in, means less wear and tear on the ground from truck tyres, and has reduced our diesel consumption.'
Getting the community involved
A combination of a fast-growing business and slow-growing raw products (orchards can take up to 10 years to produce fruit) means that Andy has taken an unusual approach to apple sourcing from the outset; community growing.
The first ever batch of Cornish Orchards juice, made in 1999, contained juice from apples grown in orchards across Cornwall. Last year the company launched a community growing scheme inviting individuals to sell unwanted apples from the trees in their gardens. 'We've had trailer loads, carfuls and even people bringing them in in buckets!' he says.
Cornish Orchards has also worked with farmers in the counties to encourage them to introduce orchards onto their land, to help supply the business. It's not only good for biodiversity, but is helping bring back a traditional South West industry.
So when you're enjoying a mouthful of Cornish Orchards' crisp apple juice or spicy mulled cider, savour the thought of apple trees blossoming across the county and an ancient Cornish landscape coming back to life.
Watch a video about Cornish Orchards.
We visited Cornish Orchards as part of a Business Leaders for Low Carbon group field trip. The 30 or so members include organisations ranging from the Cornwall Marine Network to the Cornwall Sustainable Building Trust. Hannah Palmer, Environmental Coordinator for Tamar Foods, who came along on the day, said: 'What's great about these trips is that you get all sorts of ideas to kick-start you and spur you on to do something.' Find out more about Business Leaders for Low Carbon.
Categories:
Tuesday 22 January 2013
Clear About Carbon, in association with CIPS (The Chartered Institute of Purchasing & Supply), will be holding an event for procurement specialists on Monday 11th February at the Tremough Campus.  The event will take the form of a final dissemination event for the project, with a short presentation on outcomes from the project and a café-style open discussion with refreshments at which you can compare carbon stories with peers from the procurement/sustainability departments of various public and private sector organisations from across Cornwall.  See the invitation below for further details and contact Simon Ramsay at s.a.ramsay@exeter.ac.uk to register your place at the event.
Category: